Ok, so I created these four diagrams for a sorta
heated discussion over on TBP
but never mind that, here's the:
Types of spatial relationships that combat mechanics in Theatre-of-the-Mind games can care about!
First, I'm going to use a definition of TotM as follows: games that are communicated about through words (voice or text) rather than maps, playing pieces, whiteboard scrawls etc.
Got it?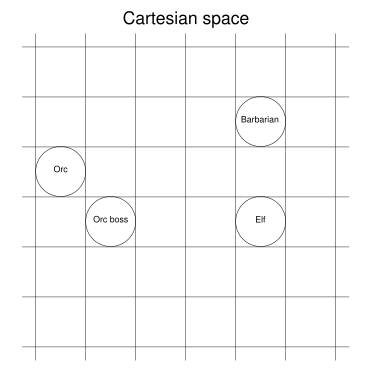 The mechanics could be set up to care about exact positioning of every person and object relative to some origin point. Imagine playing 4e D&D over the phone.
Example mechanic texts: "The spell hits everyone in a three foot radius from where it lands". "Orcs always attack their closest enemy."
Example games:
I don't know any game that's primarily designed with TotM in mind that's set up like this. I've played and ran games of 5e with this take on it with mediocre results.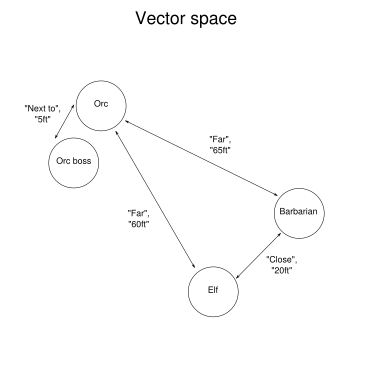 The mechanics could be set up to care about relative distance between every person and object but not their position.
5e has several mechanics in this space (the range listings on weapons for example).
Example mechanic texts: "Arrows can shoot Far enemies", "The gun has a range of 200 meters"
Example games: 13th Age, 5e RAW, Burning Wheel "Range and Cover".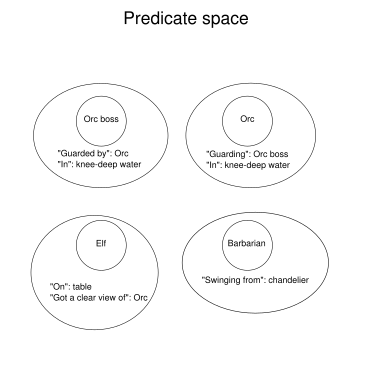 The mechanics are set up to care about space-related properties.
5e has very many mechanics that are in this space, and some of its mechanics like being "next to" someone can be easily interpreted to be in this mode as well.
Example mechanic texts: "Whenever someone enters the kitchen, they need to make a saving throw". "If you're on the table attacking down, you get advantage." "You can make a dex check to become hidden, if there is anything to hide behind in this room". "The garden has the aspect 'Constant rain', and it takes an action to get there from the living room.".
Example games: Spider & Web, Fate. 3:16 arguably. Netrunner, Magic: the Gathering ("flying", "banding", "flanking" traits and keywords). 5e Mike Mearls style.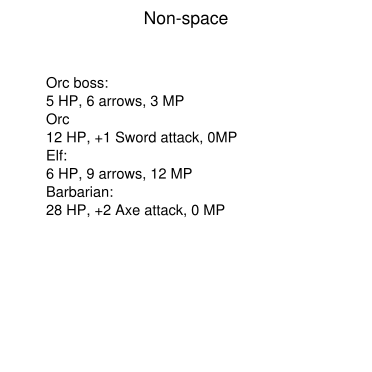 The mechanics are set up to care about things other than spatial relationships.
Example mechanic text: "When someone loses half their HP, they become 'bloodied'". "You need to spend a level 2 slot to cast a level 2 spell".
(The difference between this and predicate space is that these aren't spatially
flavored
which leads to very different thinking for many of us humans.)
Example games: Wizardry, Dragon Quest, Phantasy Star, Labyrinth Lord, B/X D&D, Burning Wheel "Fight".
My idea is that the ideal TotM game makes heavy use of predicate space and non-space mechanics while avoiding mechanics that rely on cartesian space.
Is this helpful to folks?
To be specific: this is "dice"-level stuff for mechanics writers and move-writers (in PbtA parlance). GMs should probably be aware but the shared imagined space is always relevant in order to resolve some common sense things. It's just that a game that's riddled with mechanics that rely on exact spatial positioning will play very differently from one that has interesting and deep mechanics that aren't.
The idea is that players will still imagine a room (unless aphantasia strikes) and that inner view of a room will help them remember the situation and make choices in the situation. But the less game mechanics that rely on that room being communicated the better, the more relaxing and useful the communication will be. That's my hypothesis! I call this.... Sandra's Rule! Yes, my first game design rule has been... unleashed!!!