A few days ago, our own Jeff Slater (game collector and enthusiast extraordinaire) pointed me towards the
Critical Role
YouTube D&D campaign.
Watching it, and seeing that it has almost 6 million views, has brought me to realize that something is happening in the gaming world. There are entire campaigns online, hundreds of hours that people are watching religiously, tuning in live every week. D&D is in the spotlight in so many ways - we have celebrities endorsing it, it appears on popular TV shows like
Stranger Things
, and there's even something on YouTube called "CelebriD&D", where famous actors play D&D in short segments.
It seems this is really something huge. There are second-party videos reviewing moments in the game which are 30 minutes long and have been watched close to a million times. Commenters say they cried when something sad happened in the game, and are planning to
rewatch
all 400+ hours of gameplay.
Here's a short interview which talks a little bit about the genesis of
Critical Role
and its impact: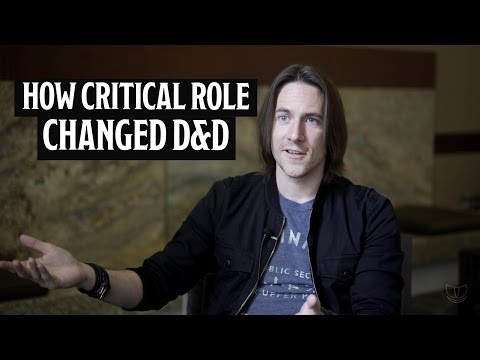 This is all news to me, and I find myself feeling really ambivalent about it.
On one hand, people have been crowing about the Death of Roleplaying for a number of decades. It's nice to see the lie put to that particular mindset. Between the OSR movement, creator-produced new RPGs, the renaissance of boardgames, and now the resurgence of D&D, tabletop gaming seems very much alive and well. Indeed, it is far more so than I thought!
In my city, boardgame cafes are one of the most successful businesses going, and they're now opening up in every part of town, like mushrooms sprouting along major streets.
On the other hand, I watched a bit of
Critical Role
, and I'm a little disappointed by the style of play. It's exactly what I remember of D&D from when I was a teenager, and what a lot of people interested in "story games" were turned off by. People display incredible skill in colourful descriptions, voice acting, and rule mastery. However, it's also full of all the genre tropes, gamer cliches, and counterproductive practices that largely drove me away from D&D in the first place.
For instance, the first session of
Critical Role
(a game made by and for a mature audience) even has a "let's go to the brothel, pay for sex, and roll Constitution to see how well we did it!" scene.
The DM of the game made a video talking about how to deal with "Player Death" (let's be charitable and assume he meant "character death"). He discusses how difficult and undesireable that can be in a long campaign, but that it's a reality which must be considered, and then described techniques for helping players "get over it". I would have thought that in 2017 a scripted and carefully-considered video about "player death" (ha!) would at least mention the possibility of addressing it via design or gameplay practices, instead of handling it like a dangerous scourge which, like gun crime, alas, isn't wanted but can't always be presented. Not a terribly aware point of view, in my opinion.
I suppose it's a selfish fear of mine that's rearing its ugly head. If millions of people are admiring this kind of roleplaying as the apotheosis of gaming... will the hobby once again be dominated by Illusionist D&D play? Do people look at their favourite celebrities playing D&D and dream of one day gaming in that same style?
I don't know.
What do you think? What are your thoughts, reactions? Is this really a big trend or movement, and how is it affecting the gaming scene?
Are you a fan or
Critical Role
, or do you know people who are? What is your (or their) relationship to such a form of entertainment?