LUNAR NOTES
Hunters of Dremes & Shadows Extraordinaire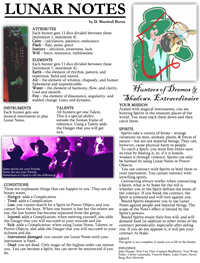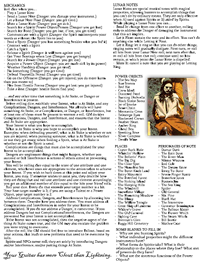 Page One PDF
Page Two PDF
I'm not as hot as John Harper with the layout, but I'm actually fairly pleased with how this looks visually. I surprised myself.
The bulleted lists in GHOST/ECHO were what jazzed me the most, so I emulated that. I actually had longer lists than what's in here, but decided to cut them down.
To elaborate on the gaming-related influences:
John Harper: getting this party started
Vincent Baker: dice mechanic in Otherkind, and Cruel Fortunes in Poison'd (which you can kinda see in the way that one Condition can lead to another)
Luke Crane: Shades and Tests in Burning Wheel; if you squint, you can see that the number of Complications in this is actually the same as the Obstacle in BW
Ron Edwards: Binding rules in Sorcerer
David Berg: a conversation about another project of mine (American Wizards) that led directly to the Complication/Interference/Danger schema.
All of the pictures in this are Captain Beefheart stuff. That's the Captain himself with the trout (Spirit?) coming out of his saxophone on P1. On the left of P1, we have The Mascara Snake, who played guest bass clarinet on the
Trout Mask Replica
album. Low left on P1 we have a photo of Captain Beefheart's Magic Band in scary costumes, from the album
Strictly Personal
. On P2, we have guitarist Zoot Horn Rollo, from a picture from TMR.
The name "Lunar Notes" comes from the Captain Beefheart song "Big Eyed Beans From Venus," in which the Captain commands Zoot Horn Rollo to "hit that long, lunar note, and let it float."
So, whaddya think?