John Harper's Blades in the Dark
is going very well on Kickstarter:
https://www.kickstarter.com/projects/2080350433/blades-in-the-dark
A lot of details I've seen about "Blades" so far made me go: "yes, yes!" and reminded me a of a lot of RPG design ideas I liked or preferred recently.
(That being said, the actual setting is not my favorite background - and what's with the AW-style oversaturated b/w pics?)
So, here ist the
publicly
available information (as far as I know):
http://onesevendesign.com/blades/blades_qs_sample_02.pdf
http://onesevendesign.com/blades/blades_qs_sample_01.pdf
http://onesevendesign.com/blades/bitd_whisper_cult_samples.pdf
http://onesevendesign.com/blades/blades_episode_one_sheets.pdf
http://onesevendesign.com/blades/blades_action_effect_sample.pdf
https://plus.google.com/111573643764421321963/posts/GDz2hMyHrrW
http://www.seannittner.com/actual-play-six-towers-gang/
http://www.seannittner.com/actual-play-blades-in-the-dark-of-nerdly/
http://forum.rpg.net/showthread.php?751083-Kickstarter-Blades-in-the-Dark
http://briecs.blogspot.com.tr/2014/03/five-or-so-questions-with-john-harper.html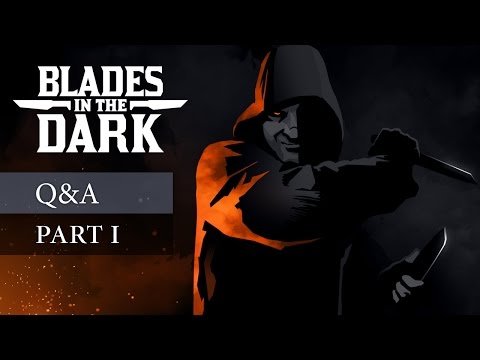 [Please don't post links to the restricted backer-only material, i.e. the full QuickStart guide]
So, here are some
very subjective
impressions based on my
very limited
background so far.
Stackable Generic Resolution System
This seems pretty solid along the lines of modern RPGs that have a unified, stackable resolution system.
I didn't fully get the mechanics. What I've understood, I guess you roll a bunch of D6s and pick the best (??)
If you look at the sheets, it's really cool what various things you can pull together, including "Devil's Bargain".
I don't know how many dice you would stack on an average roll. I hope it's not too many because I don't like the probability for Xd6 with a lot of dice.
Action Roll - Resolve Mechanic
Again, I'm not clear how it works exactly.
The basic resolve outcomes have a nice (and even more simplified) AW feel to it.
Example "Controlled":
6: full success
4-5: reduced success or more risk
1-3: nope (yet you can still try to succeed for more risk)
This is similar to AWs 10+/7-9 probability:
10+ on 2D6 = 16.6% = 6 on a 1D6
7+ on 2D6 = 58.3% // 4+ on a 1D6 = 50%
Adding "best of Xd6" gives a different curve than AWs "2d6 + bonus" which has a slightly more linear/smoother progression.
Action/Effect Roll - Three Difficulty "Flavors"
I'm strongly reminded of a recent discussion on this forum related to setting difficulty levels.
http://story-games.com/forums/discussion/comment/441501/#Comment_441501
John has very elegantly solved this problem by offering three "difficulty flavors":
- Controlled
- Risky
- Desperate
They use the same resolve mechanics. Yet for i.e a desperate move, even the positive outcome is not soo great ("You do it but suffer the effect of the danger.").
Anyway, this is brilliant and handles the problems in the discussion mentioned very elegantly. As a GM, it is much easier to choose and communicate what the players are up against.
"Progress Pies"
John assigns a graphic "pie" to each project (whatever that is exactly), looking similar to the AW "clock". You can have the pie split into 4, 6 or 8 pieces.
I've tinkered a lot with tracking progress of plots recently (I usually use 5 steps as default). This certainly is a very neat & welcome tool for tracking the progress of a story line as well as building the dramatic story arc.
Sheet Design
The character/crew or whatever playsheets... These are some of the most beautiful & functional RPG playsheets I've ever seen!
Just looking at them makes me want to play the game. It pulls me into the game already and gives me a certain confidence (though I have no clue how the game works) that the system will support me along the way.
So, this seems to me one of the most promising RPG designs.
Thinking how influential "Lady Blackbird" was for me, I'd be really vey happy if John Harper enjoys more mainstream popularity in the RPG world.
As mentioned above, this is my very limited sujective impression from a brief look. Feel free to enlighten us with more information/feedback about "Blades in the Dark"!